Student Course Evaluations
I believe that student input is very important to a professor's teaching performance. I carefully examine all of the feedback that students give me both directly and anonymously through course evaluations. Below you can download in PDF format the complete and unedited student evaluations from the courses that I have taught at Gettysburg College. If numbers are not your thing, there are also Selected Student Comments transcribed from the student evaluations.

Course Evaluations Average Score Summary
The following summary chart is based on Gettysburg College's end-of-semester student course evaluations. Students select between Poor, Fair, Good, Very Good, and Excellent for each question. Using a 5-point scale, I have provided the average score of the seven course and instructor evaluation questions for the classes I have taught at Gettysburg between Fall 2017 and Spring 2020.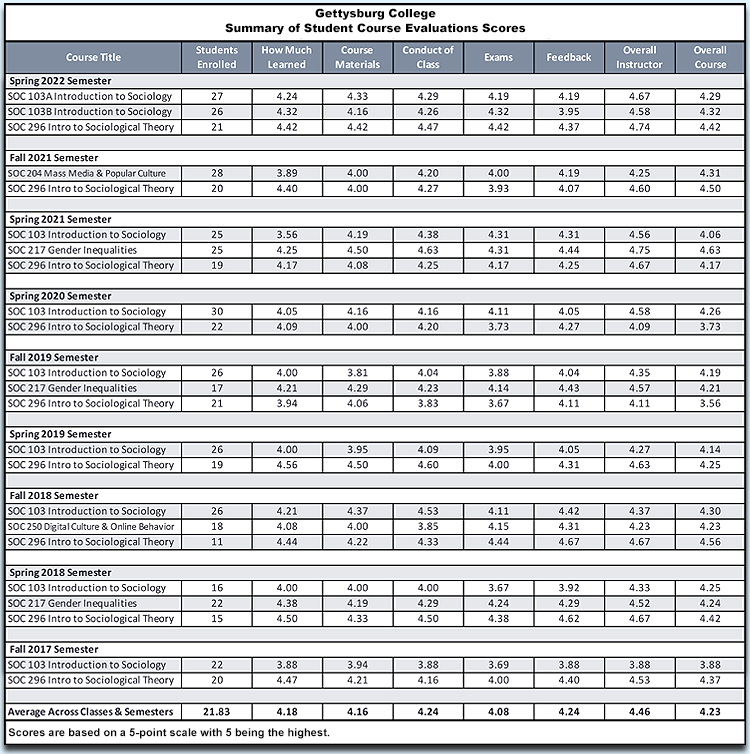 Original Course Evaluations
When I joined Gettysburg College in Fall 2017, they used a fairly typical end-of-semester hand-written student course evaluation. I have provided scans of the original evaluations for download in PDF format. I also have provided a transcribed summary version. That way you can save yourself the trouble of trying to decipher students' hand-written comments. Beginning Fall 2019, Gettysburg switched to online course evaluations. The college outputs the information collected as a detailed evaluation summary report. I have provided the complete, unedited, reports for download.
---

Spring 2019


Evaluation Original Scans
SOC 103A Introduction to Sociology

Evaluation Original Scans
SOC 296A Intro to Sociological Theory

Evaluation Transcribed
SOC 103A Introduction to Sociology

Evaluation Transcribed
SOC 296A Intro to Sociological Theory
---

Fall 2017


Evaluation Original Scans
SOC 103A Introduction to Sociology

Evaluation Original Scans
SOC 296A Intro to Sociological Theory

Evaluation Transcribed
SOC 103A Introduction to Sociology

Evaluation Transcribed
SOC 296A Intro to Sociological Theory

Selected Student Comments
How Much Learned
"A lot of thought-provoking topics, but I really gained the ability to thoughtfully talk about this issue (the group presentation was especially helpful here)." Gender Inequalities
"I am taking the MCAT in a month and learning about the healthcare system and inequalities in society as well as many of the theories we have gone over are pertinent to the Behavior section. I have gotten a lot out of this course." Introduction to Sociology
"I felt like I am applying the sociological concepts I learned now to daily life, more than I did after I had my SOC 101 class. This class helped me see the world from a completely different perspective and shaped my own standpoint on an array of sociologies themes." Intro to Sociological Theory
"The assigned books for the course contained perspectives I hadn't seen before and really opened my eyes to certain issues in our society." Introduction to Sociology
"If I did already know something, Professor Standlee gave me even more information!" Intro to Sociological Theory
Course Materials
"I always knew ahead of time when the next class assignment was due and what it was. It was all due to how precise the syllabus was for this course." Introduction to Sociology
"I really loved the overview book. That helped so much to understanding the readers. I also loved that we had reading notes because it made writing the essay exams so much easier, also forced me to do the reading." Intro to Sociological Theory
"All the materials that we had for this class was excellent for the topics we learned and went into depths on reasons why." Gender Inequalities
"Syllabus helped a lot because it had a lot of good useful information. Readings were good to give a good base of knowledge for class discussions. Films and handouts and everything else were interesting." Introduction to Sociology
"Some of the material was dense and it was hard to comprehend at first but Prof. Standlee made it comprehensible." Intro to Sociological Theory
Conduct of Class
"Prof. Standlee is an amazing lecturer! She is so eloquent and makes the material easier to understand. Listening to her lectures were essential to me succeeding in this course." Intro to Sociological Theory
"Professor Standlee is an excellent moderator of challenging discussions and is mindful of the needs of students." Gender Inequalities
"I really liked the lecture style because it's how I learn best. It was also cool that students were able to conduct their own lessons because we had to know the material enough to teach it instead of just regurgitating it." Introduction to Sociology
"Always kept class on task at hand but allowed us to discuss as a group and creatively think 'outside the box.'" Gender Inequalities
"The clear explanations, encouragement and knowledge. Professor Standlee really helped me open up." Introduction to Sociology
Exams
"The essays made me reflect/use my transferable skill and get to apply what I learned in previous classes to real life." Introduction to Sociology
"I think using take home essays was a more enjoyable way to really engage in the material and think critically about it." Intro to Sociological Theory
"I think the social issue papers really were useful as I thought about this class in so many ways." Gender Inequalities
"The notes were a good way to keep track of what we had learned, but were sometimes exhaustive. I do think that the final paper that we did in late April was at a not so great time - I think it should have been earlier in the semester. But overall our assignments/essays were a pretty good measure of learning in the class." Intro to Sociological Theory
"Presentation, discussions and readings allowed us to delve into the topics with a better understanding." Gender Inequalities
Feedback
"Professor Standlee provided helpful, constructive feedback and was always available to help us out." Intro to Sociological Theory
"Professor Standlee is an incredibly fair grader and always provides feedback. I like her use of rubrics." Gender Inequalities
"Very reasonable and willing to help and offer support for improvement." Introduction to Sociology
"The grades were always given back with a week or less where everything was explained." Gender Inequalities
"She was always available for help, wanting us to do our best." Intro to Sociological Theory
Overall Instructor
"I really enjoy how this professor reflects frequently on her teaching and effectiveness and actively works to better herself there for her student's learning." Intro to Sociological Theory
"Awesome professor, my favorite at gettysburg, so fair and respectful and great at what she does." Gender Inequalities
"She is very nice and fair. As a student, I felt comfortable asking for help and talking to her." Intro to Sociological Theory "
"Very good at facilitating discussion and listening to all opinions." Intro to Sociological Theory
"Really enjoyed having her as a professor and she makes me want to learn and do good work." Gender Inequalities
Overall Course
"I did not think I would like this course in the beginning, but it turned into my favorite class. Now it is a subject I would like to continue to study." Gender Inequalities
"Way more interesting and useful material than I expected. So glad I took this course and took it with Standlee." Intro to Sociological Theory
"Learned/did many interesting things that made the class enjoyable." Introduction to Sociology
"Super interesting and not one sided (focuses on gender inequality for BOTH men and women)." Gender Inequalities
"This course covers difficult material, but Professor Standlee did an excellent job trying to teach it in a way that makes sense and was interesting." Intro to Sociological Theory
Last Thoughts
"I enjoyed taking part in this course for my major requirement and I strongly believe that professor Standlee has been my favorite professor thus far at Gettysburg College. The weekly discussions in class were informative, and there was always room for student-led discussion. In addition, once COVID-19 hit and we had to turn over to remote learning, although we weren't able to have the same discussions face to face, the professor posted an online forum where the students were able to apply what they have learned each week and relate it with real world experiences. I thoroughly enjoyed taking this course." Intro to Sociological Theory
"Love Prof. Standlee! Extremely fair and unbiased teacher with a great passion for what she does. Can't wait to take her classes in the future." Introduction to Sociology
"This course exposed me to things I would have never thought about especially regarding the poverty unit and I am glad I signed up for it! Professor Standlee is incredibly kind and intelligent. Great class!" Gender Inequalities
"Honestly probably one of the best taught classes I've ever taken." Introduction to Sociology
"Standlee was not only funny but fair. She helped me through academic & personal stuff. The assignments were fair & made sense. She made a course about dead white men really fun & interesting." Intro to Sociological Theory
"She should have a Ted Talk." Intro to Sociological Theory (high praise indeed lol)
astandle@gettysburg.edu • Gettysburg College • (717) 337-6194