Professional Service
I believe that information should be shared. Much in the way that I want my students to be able to critically engage and give back to society, I am dedicated to the furthering of knowledge in the profession. I peer review for multiple journals and actively contribute to research dedicated to the broader understanding of society.
Peer Reviewer
Journal Synopsis:
Emotion, Space and Society aims to provide a forum for interdisciplinary debate on theoretically informed research on the emotional intersections between people and places. These aims are broadly conceived to encourage investigations of feelings and affect in various spatial and social contexts, environments and landscapes. Questions of emotion are relevant to several different disciplines, and the editors welcome submissions from across the full spectrum of the humanities and social sciences.
---
Journal Synopsis:
Ethnography and Education is an international, peer-reviewed journal that publishes articles illuminating educational practices through empirical methodologies, which prioritize the experiences and perspectives of those involved. The journal is open to a wide range of ethnographic research that emanates from the perspectives of sociology, linguistics, history, psychology, general educational studies and anthropology. The journal's priority is to support ethnographic research that involves long-term engagement with those studied in order to understand their cultures; uses multiple methods of generating data, and recognizes the centrality of the researcher in the research process.
---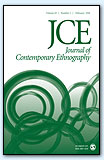 Journal of Contemporary Ethnography
Journal Synopsis:
Journal of Contemporary Ethnography (JCE), published bi-monthly, is an international and interdisciplinary forum for research using ethnographic methods to examine human behavior in natural settings. JCE brings you relevant material that examines a broad spectrum of social interactions and practices - in subcultures, cultures, organizations, and societies - from a variety of academic disciplines including, but not limited to, Anthropology, Communications, Criminal Justice, Education, Health Studies, Management, Marketing, and Sociology.
---
Journal Synopsis:
New Media & Society is a top-ranked, peer-reviewed, international journal that publishes key research from communication, media and cultural studies, as well as sociology, geography, anthropology, economics, the political and information sciences and the humanities. It is committed to high-quality research that explores the relationship between theory, policy and practice.
---
Journal Synopsis:
Social Currents, the official journal of the Southern Sociological Society, is a broad-ranging social science journal that focuses on cutting-edge research from all methodological and theoretical orientations with implications for national and international sociological communities. The uniqueness of Social Currents lies in its format. The front end of every issue is devoted to short, theoretical, agenda-setting contributions and brief, empirical and policy-related pieces. The back end of every issue includes standard journal articles that cover topics within specific subfields of sociology, as well as across the social sciences more broadly.
Affiliations
One of the most important aspects of academic life is keeping up-to-date with the innovative work being done in your field. While reading journals an books is essential, I have found participation in academic associations crucial. They can provide support, mentoring and a sense of community. I participate in a number of academic and professional organizations in order to both offer support to my academic community and enjoy the comradery.
astandle@gettysburg.edu • Gettysburg College • (717) 337-6194