Professional Service
I view professional service as an important part of being a good colleague and academic citizen. I peer review for multiple journals and often review submissions for annual conferences such as the Association of Internet Researchers. Publishers, including Oxford University Press and Polity Books, have sought me out to review works that explore the intersection of online technologies and gender. You can often find me working behind the scenes while serving as a TRAILS Subject Area Editor for the American Sociological Association, the Central Pennsylvania Consortium's Women and Gender Studies Annual Conference Planning Committee, or hosting a panel at a conference. Much in the way that I want my students to give back to society, I am dedicated to professional service that allows me to do the same.

Peer Reviewer
The following are academic journals that I regularly peer review for (sorted alphabetically to not show any favoritism). I have provided a synopsis of the journal and a link to their website. If they are a good match, I encourage you to visit their website for information about submitting your research. Who knows, maybe the next article I review for them will be yours!
Journal Synopsis
Emotion, Space and Society provides a forum for multidisciplinary and interdisciplinary debate on theoretically informed research on the emotional intersections between people and places. These objectives are broadly conceived and seek to encourage investigations of feelings, encounter and affect in various spatial and social contexts, environments and landscapes. The journal's presentational structure and style demonstrates the richness generated by multidisciplinary and interdisciplinary engagements with emotions and affects. The journal emphasizes intellectually and critically grounded work, and offering a unique and timely opportunity to explore exciting new ways to think about natures, cultures and histories of emotional life.
---
Journal Synopsis
Ethnography and Education is an international, peer-reviewed journal publishing articles that illuminate educational practices through empirical methodologies, which prioritize the experiences and perspectives of those involved. The journal is open to a wide range of ethnographic research that emanates from the perspectives of sociology, linguistics, history, psychology and general educational studies as well as anthropology. The journal's priority is to support ethnographic research that involves long-term engagement with those studied in order to understand their cultures, uses multiple methods of generating data, and recognizes the centrality of the researcher in the research process.
---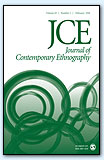 Journal of Contemporary Ethnography
Journal Synopsis
Journal of Contemporary Ethnography (JCE), published bi-monthly, is an international and interdisciplinary forum for research using ethnographic methods to examine human behavior in natural settings. JCE brings you relevant material that examines a broad spectrum of social interactions and practices - in subcultures, cultures, organizations, and societies - from a variety of academic disciplines including, but not limited to, Anthropology, Communications, Criminal Justice, Education, Health Studies, Management, Marketing, and Sociology.
---
Journal Synopsis
New Media & Society is a top-ranked, peer-reviewed, international journal that publishes key research from communication, media and cultural studies, as well as sociology, geography, anthropology, economics, the political and information sciences and the humanities. It is committed to high-quality research that explores the relationship between theory, policy and practice. New Media & Society engages in critical discussions of the key issues arising from the scale and speed of new media development, drawing on a wide range of disciplinary perspectives and on both theoretical and empirical research.
---
Journal Synopsis
Social Currents, the official journal of the Southern Sociological Society, is a broad-ranging social science journal that focuses on cutting-edge research from all methodological and theoretical orientations with implications for national and international sociological communities. The uniqueness of Social Currents lies in its format. The front end of every issue is devoted to short, theoretical, agenda-setting contributions and brief, empirical and policy-related pieces. The back end of every issue includes standard journal articles that cover topics within specific subfields of sociology, as well as across the social sciences more broadly.
---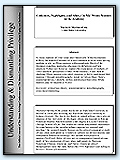 Understanding and Dismantling Privilege
Journal Synopsis
Understanding and Dismantling Privilege is a peer reviewed, double-blind academic journal. As an interdisciplinary journal, it focuses on the intersectional aspects of privilege, bridging academia and practice, highlighting activism, and offering a forum for creative introspection on issues of inequity, power and privilege. Its sole purpose is the dissemination of knowledge to as wide an audience possible. The journal is free to individuals and institutions. Understanding & Dismantling Privilege is sponsored by The Privilege Institute and The Matrix Center.

Affiliations and Memberships
One of the most important aspects of academic life is keeping up-to-date with the innovative work being done in your field. While reading journals an books is essential, I have found participation in academic associations crucial. They can provide support, mentoring and a sense of community. I participate in a number of academic and professional organizations in order to both offer support to my academic community and enjoy the comradery.
Additional Affiliations and Memberships
astandle@gettysburg.edu • Gettysburg College • (717) 337-6194